Home » Posts tagged 'nuclear power plants per country'
Tag Archives:
nuclear power plants per country
Nuclear power plants currently operate in 31 countries. Most are in Europe, North America, East Asia and South Asia. The United States is the largest producer of nuclear power, while France has the largest share of electricity generated by nuclear power. China has the fastest growing nuclear power program with 28 new reactors under construction,and a considerable number of new reactors are also being built in India, Russia and South Korea.
Of the 31 countries in which nuclear power plants operate, only France, Slovakia, Ukraine, Belgium, and Hungary use them as the source for a majority of the country's electricity supply. Other countries have significant amounts of nuclear power generation capacity. By far the largest nuclear electricity producers are the United States with 805 647 GWh of nuclear electricity in 2017, followed by France with 381 846 GWh.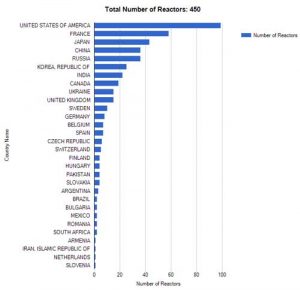 In operation

Under construction

Number

Electr. net output
MW

Number

Electr. net output
MW
Argentina

3

1.632

1

25

Armenia

1

375

–

–

Belarus

–

–

2.218

Belgium

7

5.913

–

–

Brazil

2

1.884

1

1.245

Bulgaria

2

1.926

–

–

Canada

19

13.524

–

–

China

36

31.402

20

20.500

Czech Republic

6

3.930

–

–

Finland

4

2.752

1

1.600

France

58

63.130

1

1.630

Germany

8

10.799

–

–

Hungary

4

1.889

–

–

India

22

6.225

5

2.990

Iran

1

915

–

–

Japan

43

40.290

2

2.650

Korea, Republic

25

23.133

3

4.020

Mexico

2

1.440

–

–

Netherlands

1

482

–

–

Pakistan

4

1.005

3

2.343

Romania

2

1.300

–

–

Russian Federation

36

26.557

7

5.468

Slovakian Republic

4

1.814

2

880

Slovenia

1

688

–

–

South Africa

2

1.860

–

–

Spain

7

7.121

–

–

Sweden

10

9.651

–

–

Switzerland

5

3.333

–

–

Taiwan, China

6

5.052

2

2.600

Ukraine

15

13.107

2

1.900

United Arab Emirates

–

4

5.380

United Kingdom

15

8.918

–

–

USA

99

98.868

4

4.468

Total

450

391.915

60

59.917